Academic Center for Geriatric Dentistry
The Academic Center for Geriatric Dentistry (ACT) is a scientific research organization dedicated to increase knowledge about oral health of older people through research, education, information, and clinical practice.
ACT was established in 2013 and is the first academic center devoted to geriatric dentistry in Sweden. The Center is a collaboration between the Department of Dental Medicine at Karolinska Institutet, Folktandvården Stockholms län AB (the Public Dental Service), the Stockholm County Council, and the Stockholms Sjukhem Foundation.
---
Research
The World Health Organization (WHO) recognizes oral health as a key indicator of overall health, general well-being, and quality of life. Oral diseases and impaired oral function are often associated with major noncommunicable diseases. Overall, poor oral health contributes to poorer general health and is an underexplored, modifiable risk factor for healthy aging. To manage the challenges of the aging population, we at ACT, apply a multidisciplinary approach and develop research-based knowledge. An important objective of ACT is to integrate oral health and oral functions as part of the general health profile in aging populations. We have developed novel approaches to not only promote interdisciplinary network but also stimulate cooperation between public sector organizations, academia, industry, and civil society.
Research at ACT involves sound understanding of the complex interrelations between oral and general health and related quality of life. Compromised chewing function affects swallowing and digestive functions, compromises nutrient intake, deteriorates nutritional status, and may have an impact on cognitive functions and frailty. Systemic diseases can increase the risk of oral diseases and vice versa. Multi-morbidity and polypharmacy may further generate oral and general health complications. Oral care and treatment are also sensitive and complex including ethical aspects, i.e., integrity and 'do no harm' (nonmaleficence). Therefore, ACT strives to create and implement scientific knowledge and enhance understanding of critical factors and rehabilitation procedures influencing oral and general health of older people.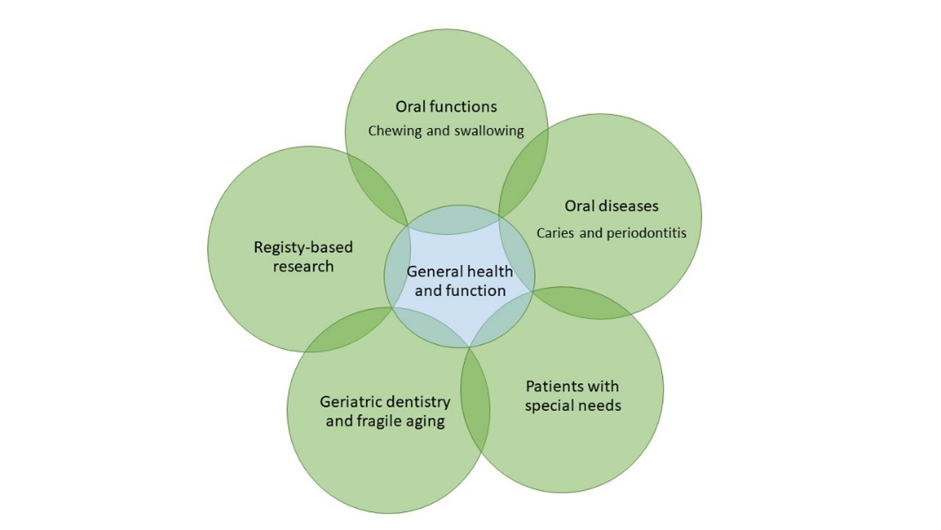 Education and information
ACT organizes and participates in conferences and programs about oral health in older people. A network for dental personnel has been established within the Stockholm County, focusing on oral health in older people. Web-based seminars are performed monthly and constitutes an important channel for skills development and continuing education.
ACT takes part in undergraduate training of dental and dental hygienist students, by offering placement studies. Clinical projects at undergraduate level are supervised regularly.
ACT arranges courses and seminars for dental professionals, staff in nursing homes and home care on a regular basis. These education activities include theoretical and practical aspects of oral health and oral hygiene. The education performed by ACT lecturers aim to prepare the next generation of dental clinicians and health care workers for dental geriatrics. This is a field where teamwork involving multi-professional expertise is essential to improve patient care and oral health, both on a population and on an individual level. The knowledge acquired from ACT Research projects is implemented in education, for improving and upgrading dental treatment plans for patients.
Clinical practice
The dental clinic at ACT is managed by Folktandvården Stockholms län AB (the Swedish public dental service in Stockholm County) and provides comprehensive dental service for individuals with special needs. The clinical work is primarily focused on diagnostic services, preventive care, oral pathology consultations and restorative dentistry. We offer general dental care specially tailored for frail older individuals with cognitive decline, functional limitations, or those with complex medical or medication histories. No referral is needed for seniors seeking treatment. Registered patients may be asked to participate in various research projects. The clinical staff will also be offered to work part time in clinical evaluation projects or research programs. This strategy, which includes research in the daily clinical work, will ensure clinical relevance of the projects while it also gives continuing education of the clinical staff.